Subscribe To Our Newsletter
We will never, ever sell or distribute your email address to anyone!
Welcome To The Greenwood!
We offer harp music and books that are lively, intelligent, good-hearted, and mischievous ~ rooted in Celtic imagination, village wisdom, and the magic of the natural world.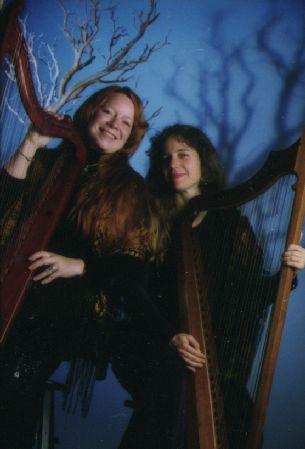 Music
We feature the innovative and fun Celtic harp music of the duo Spookytree ~ Debra Knodel & Jane Valencia.
Begin your journey by listening to their harp music. We're delighted to feature a re-release of Spookytree's first CD, now entitled "Masque".
Books
The children in your life (and yourself!) might enjoy FoxTales - a blog of magical tales and fun, featuring a peek of a children's fantasy novel by Jane Valencia, Because Of The Red Fox - release date July 29, 2013
We also invite you to Subscribe To Our Newsletter.
Enjoy!
Many paths lead through the Forest
All of them lead to magic!