Subscribe to Jane's Ezine "Acorn To Oak"
We will never, ever sell or distribute your email address to anyone!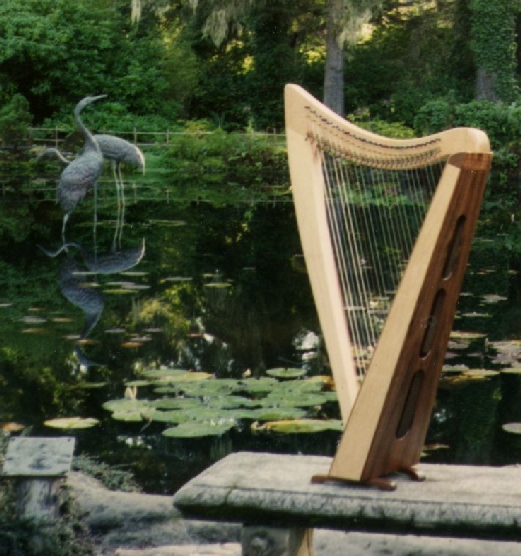 "We appreciate so much your playing the harp at the Lenten Labyrinth Walk last Wednesday. The songs were very appropriate for our meditative walk; the music was such a lovely backdrop for the outdoor setting. We look forward to working with you again."
- Betty Hawkins
The Episcopal Church of the Holy Spirit
Vashon, WA
A Harp In The Garden ....
If you are looking for beautiful music that is both peaceful and lively consider harp music! I'm available to play harp in the Seattle area, in Washington, and (very occasionally) in the San Francisco Bay Area in California. I play for weddings, parties, garden tours, meditative events and retreats, and occasions for healing, honoring, and remembrance.
I also play with other musicians, in which we offer favorite music and an enjoyable mix of styles.
Lessons
As teacher of Celtic harp for nearly 20 years, I specialize in helping the student to unearth his or her inner music while also tending to the techniques, skills, and artistry of becoming a harper. I teach both nylon-strung and wire-strung harp techniques. Lessons include improvisation and arranging with opportunities to focus on therapeutic harping skills, bardic harpistry, the harp as soulwork, composition, Celtic musical styles (Scottish, Irish, and Welsh), according to the student's interests. For all ages.
Lessons are available in-person in the Seattle, WA area, and distance, via Skype. Please contact me to explore possibilities.
Workshops
I offer workshops in bardic harp, sound healing, the village harper, modal theory, wire-strung harp techniques, improvising on the harp, and quick-to-learn tunes for playing, singing, and accompaniment for the seasons (Autumn/Harvest, Winter/Christmas, May Day songs, and more).
Double Your Repertoire
Do you want to expand your repertoire quickly, artistically, and effectively in a short amount of time? In this mentored program I share my secrets for developing a reportoire that is responsive to the needs of the moment, that expresses and deepens your musical voice, and doubles or even triples how long you can play for others. Perfect for the harper who plays or would like to play for therapeutic situations, special occasions, meditations/retreats and more! Please contact me for details.
I am honored to bear the title Vashon Island Millennium Harper Of The Paper Crane. Please read about my harp quest!